Montreal Burlesque Festival 2018
WORKSHOPS
LOCATION - All of our classes are given at The Wiggle Room (3874 Blvd St Laurent, Montreal), 2nd floor.
REGISTRATION - Registration for this series of workshops is mandatory and will be open until October 19, 2018. Space is limited for each class so sign up now!
INSTRUCTIONS ON HOW TO REGISTER FOR BOTH "STRUTS, BUMPS, GRINDS" AND "WOW FACTOR" (discount applies only when registering for these 2 workshops)
1) We use the platform "MINDBODY" for our registrations. If you already have an account, sign-in to register for workshops. If you are a new student, create your MindBody profile, here
2) From the "Classes" tab view the schedule for the week of October 21st and click "S'inscrire" for ANY one of the multiple workshops you would like to register for
3) Click "Réservez une cours (a la carte) ou workshop (MBF et autres)"
4) Choose the payment option that applies to the total number of workshops you would like to register for
5) Complete payment
6) Return to the "Classes" tab and click "S'inscrire" for each of the other workshops you would like to register for. The system will apply your existing payment to these registration and won't ask you to pay again. Voilà!
Your Body As A Stage Prop
October 20th 11:30AM to 12:30PM with Perle Noire (in english)
Explore the power of musicality, artistry, and creative choreography to deliver a powerful, captivating performance without large stage props. Learn how to use your body as a prop by creating a beautiful story with your garment, your body, and your choreography.
Cost : $45
Healing Through Seduction
October 20th at 12:30PM to 2:30PM with Perle Noire (in english)
"Healer" wasn't the first word that Perle Noire would have used to describe herself a few years ago. But after years of being told how much she has helped thousands of people, she decided that she needed to embrace the title that has bestowed upon her. Join Perle on a journey of healing and learning to love yourself through her emotional and empowering course. During her Healing through Seduction workshop, Perle will provide a safe space for students to truly embrace themselves, flaws and all.
The Healing Through Seduction Series introduces students to the art of seduction, connecting with your audience, and the beauty of self-love. The workshop will cover 3 fundamental basics of seduction through movement, and connection exercises. Students will learn the power of affirmations, a choreographed dance routine, and Perle's signature choreography. Evoke the seductress within!
Cost : $85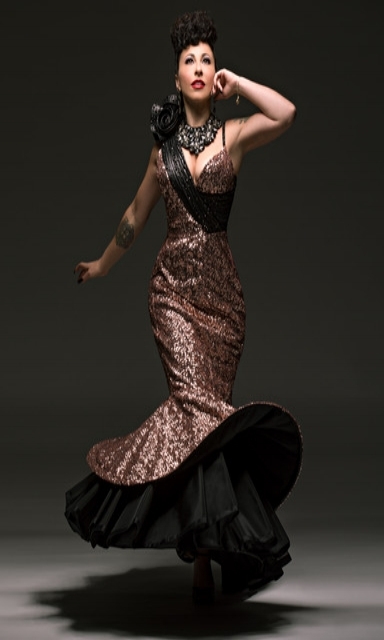 Struts, Bumps, Grinds, and More!
October 20th 2:30PM to 3:30PM with Angie Pontani (in english)
In this rare workshop you will get a chance to learn some of Angie's own classic moves, techniques and stage secrets up close and personal. She will teach you how to walk with power and confidence, owning the stage from the minute you step on-to it! She will share secrets to standing and posing and giving perfect silhouette as well as how to do the carnal bumps 'n' grinds she is known for in her signature acts like "Bongo Rock" and "Golddigger". She will teach you tease tricks and most importantly the transition moves that bring it all together and make your shimmy shine! Don't miss your chance to learn how to pop, drop, bump, grind and rewind with Angie Pontani
Angie will close out her class with a short Q & A in which you can ask her anything...well, almost anything!
Cost : $35
October 20th 3:30PM to 4:30PM with The Lady Josephine (bilingual)
Showing skin is always exciting and beautiful but… what makes an audience cheer for a burlesque performer when there's nothing coming off? We will pinpoint and practice "wow moments" that are not striptease yet still make audiences go wild. These include: physically impressive feats (everyone has them and we will find yours!), sudden change of level or speed, spinning, and sexual explosions. Be ready to move and perform these elements. The class is focused on putting them into practice and seeing their impressive impacts when combined with musicality and the power of stillness.
No experience necessary, but dance training will be an asset. A class geared towards performers and aspiring performers in any genre of stage performance. Bring the shoes you wish to rehearse in, clothes for dancing and a water bottle.
Cost : $35